Reduce fuel consumption and faster tyre wear as well as reducing the risk of a traffic accident. The Tyresure Tyre Pressure Monitoring System monitors each tyre 24 hours a day and alerts the driver both visually and audibly within 3 seconds of any abnormality in tyre pressure or temperature.
TPMS Features:
• Completely wireless and CE certified.
• Displays pressures in bar or psi.
• Bright clear colour lcd display
• 7 year TPMS sensor battery life.
• Changeable TPMS valves.
• 4 complete sensors and valves.
• 1 year manufacturers warranty.
Benefits of using TPMS:
• No need to check pressures.
• Better fuel consumption.
• Normal tyre wear.
• Reduced chance of tyre failure.
• Less risk of accidents.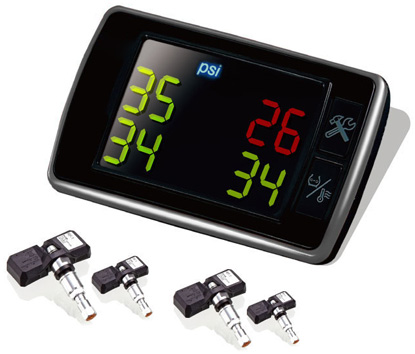 Please call us on 016905608 with any enquiries
Keep up to date with us at Balbriggan Service Centre by following us on Facebook