Lock Nut Removal within the hour, after the key is gone is straight forward for most cars at Balbriggan Service Centre.
Locking lug nuts are a popular theft deterrent device that offer a specialised lug nut per wheel, that requires an adapter to place on the lug nut for removal and replacement procedures. This device offers a challenge for would-be thieves who are interested in stealing the tyres and/or rims from a vehicle. Some people who buy used vehicles may find out the hard way whether they have locking lug nuts or not, and they may discover that the locking lug nut key was never given with the purchase of the car thus making lock nut removal a job for Balbriggan Service Centre.
This procedure offers a level of difficulty. We may need to try several times in order to achieve success. Damage may be incurred to the tools we are using, such as the 1/2-inch drive extension if we are constantly hammering on it.
We try to find the perfect balance between finesse and brute strength, this will be essential to our success for your lock nut removal, but we do succeed.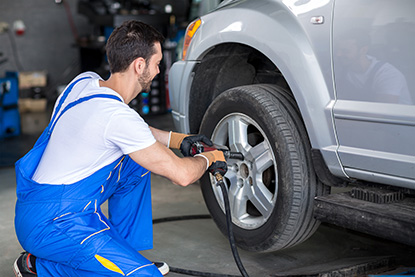 Please call us on 016905608 with any enquiries
Keep up to date with us at Balbriggan Service Centre by following us on Facebook